For anyone who has completed a 3 month subscription and wants to continue with the journey. 
You will learn about Japan, USA and Holland.
Please note that as we no longer offer monthly subscriptions all 3 months are sent in one delivery.  You will have full flexibility on how you use the packs such as monthly or weekly.

We recommend putting the pack out for the little explorer with the post for added effect!
Happy exploring!
What is it
Geo Journey is a subscription box for children to teach them all about different countries.
Start with an explorer kit then receive fun monthly packages through the post from our travelling characters Geo and Atlas who love to travel and explore.
They'll send letters, photos and cool souvenirs like a boomerang from Australia or mini wooden Clogs from Holland.
Every subscription is PERSONALISED with child's name!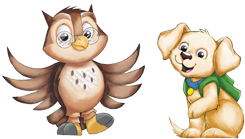 Meet Geo and Atlas...
At the heart of Geo Journey are our adorable characters Geo the owl and his best friend Atlas the puppy.
The friends are on a world adventure and every country pack includes a fact filled letter from them, telling your child all about their travels.
Each month your child can complete the travel journal, stamp the passport and enjoy learning lots of fun facts.
How does it work?
1. Start with an explorer kit with suitcase, travel journal, passport, map and activities.
2. Receive exciting monthly packages through the post addressed to your child.
3. Twelve country packs to collect. Each one is packed with creative fun AND an exciting souvenir!
What do you receive?
What's in the explorer kit?
Suitcase - personalised letter - map - travel journal - passport - stickers - photos - activity booklet - travel ticket on a string.
What's in the monthly packs?
Personalised fact filled letter - 2 photos - fact postcard - stickers - activity booklet - travel ticket on a string - a souvenir such as a boomerang from Australia.