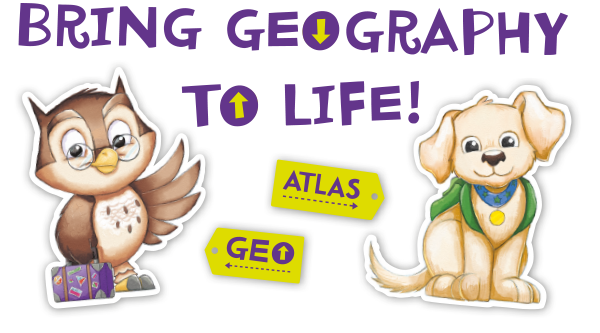 What is Geo Journey?
• It's a fun, interactive and engaging way to teach Geography
• It complements the National Curriculum for Geography AND promotes cross curriculum learning in Literacy, Maths, Art and History
• It's exciting! Your class gets an ADVENTURE KIT at the start of the year with letter from Geo and Atlas, travel journal, passport, suitcase, a big world map for the classroom wall - and the UK Country Pack to start you off!
"A high quality geography education should inspire in pupils a curiosity and fascination about the world and its people that will remain with them for the rest of their lives."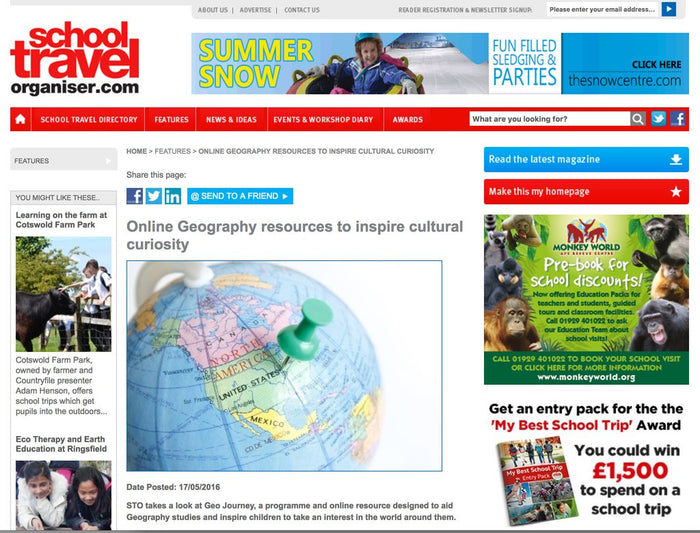 How does it work?
Colourful characters Geo the owl and Atlas the puppy visit 12 countries over the academic year. They send back letters, photos, facts, stickers, travel tickets and SOUVENIRS each month telling the class about their adventures.
• Pupils can mark off on the map each country that Geo & Atlas visit
• They can stamp the passport, just like in real life!
• They can enjoy filling the travel journal with information, photos, facts, travel tickets and postcards – or give them a scrapbook each so they can make their own personal journal
• There's a whole host of related activities that they can do in the classroom or at home. Each monthly travel pack contains an activity book too.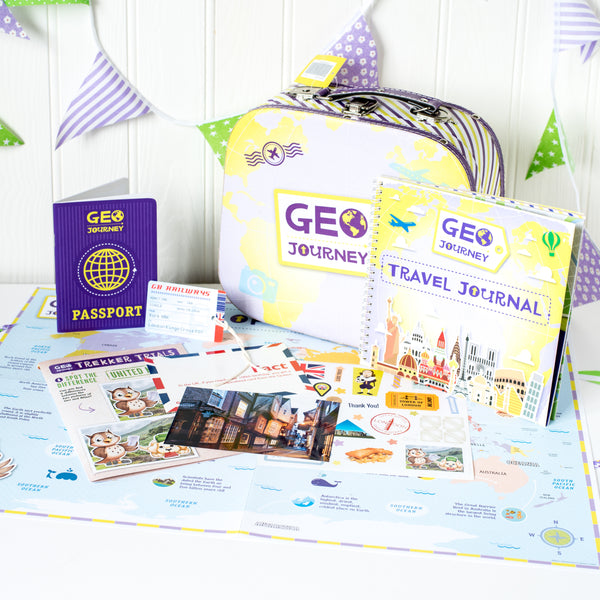 Geo Journey School Adventure Box
$200.00
View product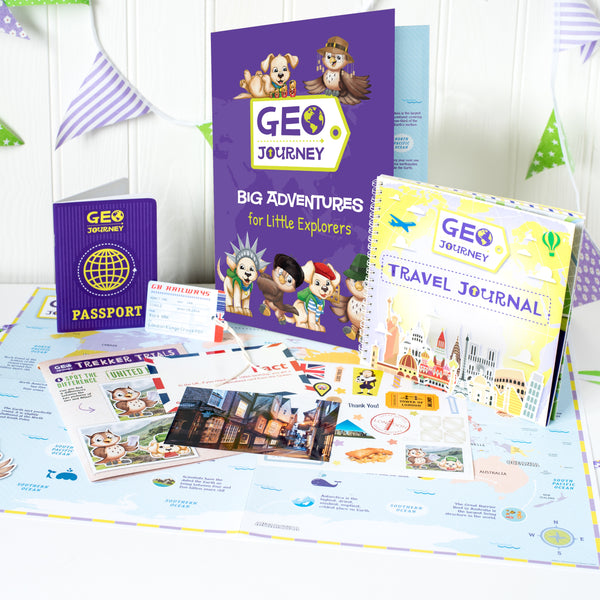 Explorer Set - Pack of 30
$381.00
View product
View all
As seen in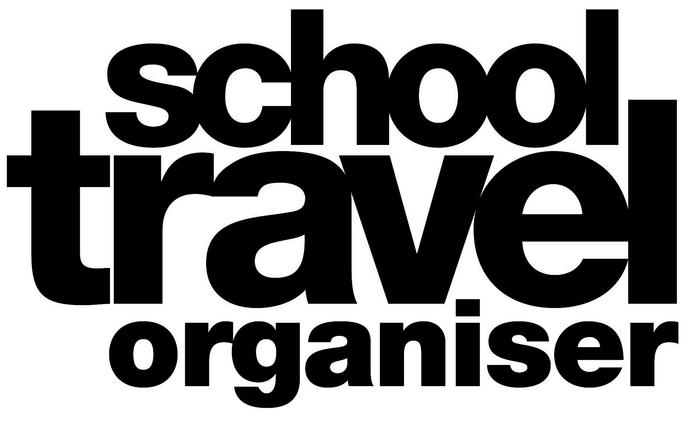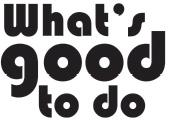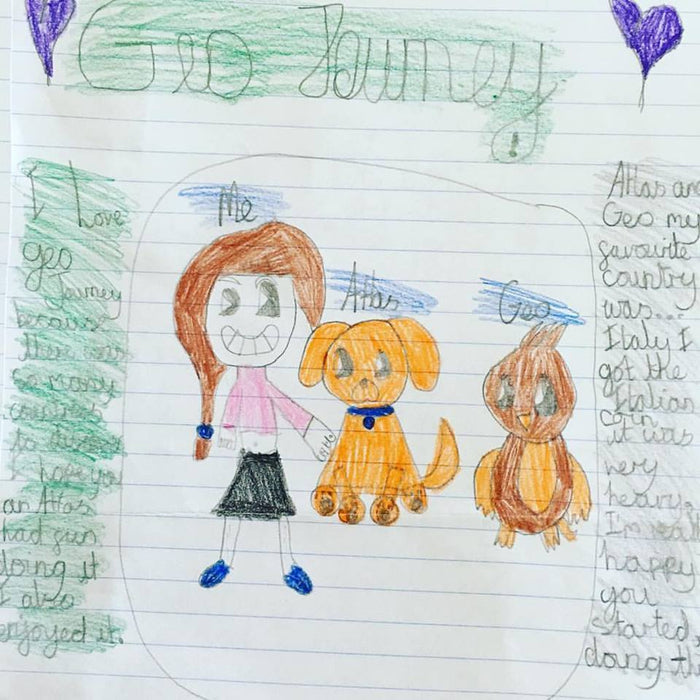 In the classroom
Geo Journey was designed to bring Geography to life and spark interest in learning about different countries and cultures. 
Each month a letter, photos, fact card, stickers, travel ticket, activity book and souvenir will arrive from Atlas and Geo on their travels. 
Pupils will learn about a different country each time and build up a good knowledge of capital cities, country flags, typical foods, traditions and even some basic language. 
The souvenir each month will get the children talking – it could be a toy panda from China, a flag from the USA, shells from the beach in Spain, a miniature pair of clogs from Holland, a boomerang from Australia or a Russian doll from Russia.
"Brilliant, just brilliant!"
— Kate Horton, Head Teacher, Leeds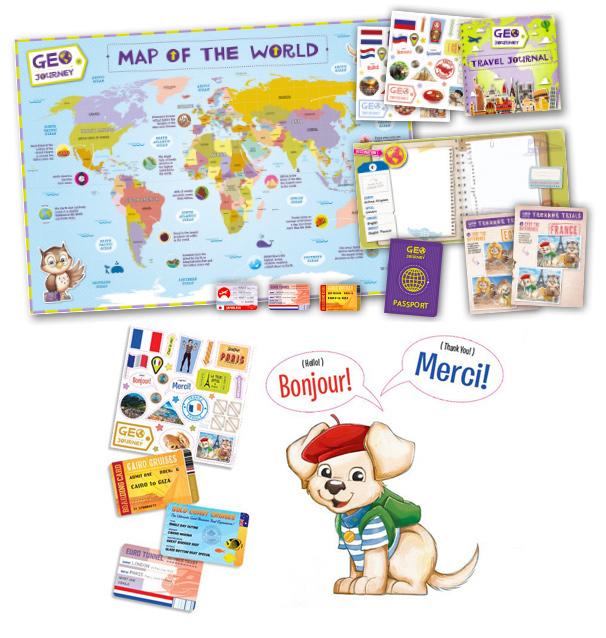 Expanding knowledge and creativity
Get them thinking: ask pupils to guess which country Geo and Atlas have visited by giving them clues from the packs 
Improve language skills: teach words and phrases in different languages 
Link Literacy to Geography: pupils can write their own replies to Geo and Atlas 
Help them to problem solve: photocopy the activity books for everyone to try 
Link Geography to History: set a task to find 5 historic facts about the country
Improve their Maths skills: practice currency conversions in a real life context 
Link Geography to Art: draw country flags or design travel tickets
Pupils can take turns in taking the suitcase home so they can do their own research and bring their findings back into school to share with everyone.
We love to chat about our products and classes, and how they can be of benefit. Simply get in touch using the form below, emailing hello@geojourney.co.uk or calling 0191 5166155 to hear more.