SOLD OUT!!  Pre-Order now for JULY Delivery.
Cool astronaut kit with mini suitcase and creative activites.
Your little astronaut will love this unique gift which will inspire them to learn about our amazing solar system.
The suitcase comes with mission log book and astronaut passport so the child can create their own keepsakes to keep forever.
You'll also find stickers, photos, fact card and an activity booklet about planet Earth.
The "astronaut in training" can make a start on their mission log book straight away!
The sticker sheet has a stamp for the astronaut passport too.
Children will love the fun fact-filled letter from our own characters Geo the owl and Atlas the puppy.  They are planning some exciting space adventures.
Letter can be personalised. We handwrite the child's first name and decorate the envelope to give a personal touch. Simply add child's first name in the box at checkout.
CONTENTS OF THE LITTLE ASTRONAUT KIT
Mini suitcase, letter from Geo and Atlas, mission log book, astronaut passport, 2 photos, 1 fact card, activity booklet, travel ticket and stickers.
We have exciting planet packs available to buy separately which can be added to the Little Astronaut Kit. Why not check out our Mercury Pack with cool space sunglasses!
Recommended for 4-10 year olds.
Made from:
Quality cardboard suitcase with PU leather handle.
Dimensions:
Suitcase is 29cm x 24.5cm x 10.5 cm
Mission Log Book H20cm x W20cm x D0.5cm
Astronaut Passport H14.5cm x W10.5cm x D0.25cm
What is it?
A subscription box for children to learn about our amazing solar system and the planets within it.
Start with an explorer kit then receive fun monthly packages through the post from our cute characters Geo and Atlas who love to travel and explore.
They'll send letters, photos and cool souvenirs like a space passport and mission log book.
It's the kids subscription they would choose themselves!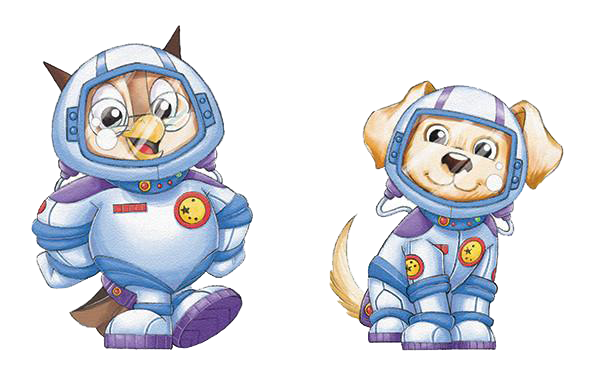 Meet Atlas and Geo...
Geo the owl and his best friend Atlas are off on their travels again, this time to find out about our amazing solar system and the planets within it. They would love your little astronaut to join them on their adventures!
From the rocky inner worlds that sit closest to the sun - Mercury, Venus, Earth and Mars - to the large gaseous outer worlds - Jupiter, Saturn, Uranus and Neptune - there's an awful lot to discover. Geo and Atlas even meet an alien friend on Mars!
The astronaut kit makes a cool present, then the real adventures start a month later when Geo and Atlas start writing to your child.
How does it work?
1. Start with a cool astronaut kit.
2. Receive exciting monthly packages through the post addressed to your child.
3. Nine planet packs to collect. Each one is packed with creative fun AND an exciting souvenir!
What do you receive?
What's in the astronaut kit?
Space suitcase - personalised letter - map - mission log book - astronaut passport - stickers - photos - activity booklet - travel ticket on a string - astronaut in training wristband.
What's in the monthly planet packs?
Personalised fact filled letter - 2 photos - fact card - stickers - activity booklet - travel ticket on a string - a souvenir such as astronaut food and space sunglasses.