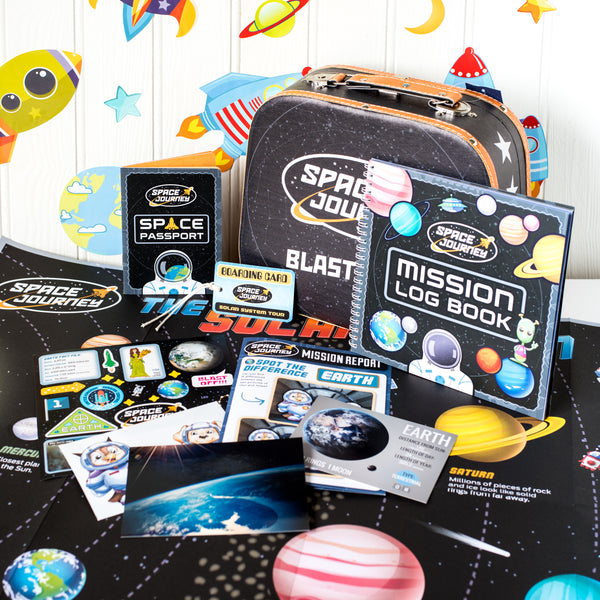 Zoom in
An "out of this world" adventure to teach children all about the solar system.

Space Adventure Kits are posted out to schools in early September.

Then throughout the academic year the class will receive 10 monthly packages from cute characters Geo the owl and Atlas the puppy.  Learn about a new planet each time.

Children LOVE receiving mail, watch how excited they get when they hear that another letter has arrived from their new friends!  Each monthly planet package is personalised and stamped with puppy paw prints and space stamps so they'll know it's from Geo and Atlas.

The Space Adventure kit comes in a cool suitcase with mission log book, astronaut passport,  astronaut in training wristband and a large map of the solar system.  It also includes activities, stickers and information about planet Earth so you can get started while waiting for the first package to arrive from space.

Atlas and Geo will visit all of the planets and even the moon.  They might even meet an alien friend on their travels!

Children can track the space missions of Atlas and Geo by marking off planets on the map as they visit each one, stamping their astronaut passport and update the log book with stickers and photos.
The letters each month are exciting and filled with information about the planet.

Monthly planet packs include photos, fact cards, stickers and an exciting souvenir from each planet.   

The souvenirs are the really fun part as they could receive some cool Space sunglasses or Astronaut Food to name just a few.  

3,2,1 Blast Off!
What is it
Geo Journey is a subscription box for children to teach them all about different countries.
Start with an explorer kit then receive fun monthly packages through the post from our travelling characters Geo and Atlas who love to travel and explore.
They'll send letters, photos and cool souvenirs like a boomerang from Australia or mini wooden Clogs from Holland.
Every subscription is PERSONALISED with child's name!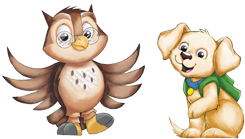 Meet Geo and Atlas...
At the heart of Geo Journey are our adorable characters Geo the owl and his best friend Atlas the puppy.
The friends are on a world adventure and every country pack includes a fact filled letter from them, telling your child all about their travels.
Each month your child can complete the travel journal, stamp the passport and enjoy learning lots of fun facts.
How does it work?
1. Start with an explorer kit with suitcase, travel journal, passport, map and activities.
2. Receive exciting monthly packages through the post addressed to your child.
3. Twelve country packs to collect. Each one is packed with creative fun AND an exciting souvenir!
What do you receive?
What's in the explorer kit?
Suitcase - personalised letter - map - travel journal - passport - stickers - photos - activity booklet - travel ticket on a string.
What's in the monthly packs?
Personalised fact filled letter - 2 photos - fact postcard - stickers - activity booklet - travel ticket on a string - a souvenir such as a boomerang from Australia.